Return to the Luminous
 A Yoga Retreat in Tulum, Mexico with Lori Lee and Karla Blocka
April 25th-May 2nd, 2015
You may already be familiar with the beauty and magic of Tulum. Join us for an unforgettable experience here on this beach for one week of yoga, warm sunshine and delicious food.

We will be exploring the ancient practices of yoga and ayurveda in this beautiful yoga room overlooking the ocean with salt air breezes and palm trees swaying in the wind. Classes will include slow and groovy vinyasa flows, yin yoga, therapeutic yoga, yoga nidra, pranayama, ayurveda fundamentals and yoga practices to deeply nourish the mind, body and soul. The beautifully prepared meals are included 3 times a day, 7 nights accomodation, and all yoga sessions by Lori and Karla.
$1699 plus GST per person – Shared Room (double occupancy)
The cost does not include airfare to Cancun, Mexico or your transfer to and from the airport to the retreat centre.  The retreat centre is at Shambala La Petit Hotel in Tulum. You can find a reliable and affordable shuttle at; http://www.olympus-tours.com
The cost is $1783.95 after tax (GST). This is non-refundable and non-transferable and is due at the time of registration.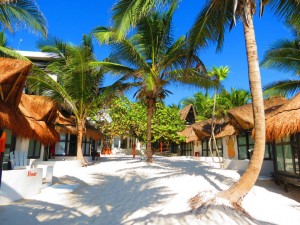 "The practice of yoga induces a primary sense of measure and proportion. Reduced to our own body, our first instrument, we learn to play it, drawing from it maximum resonance and harmony" – Yehudi Menuhin
There is free time available between sessions for walks, reading, lounging, exploring or personal time. All classes are optional.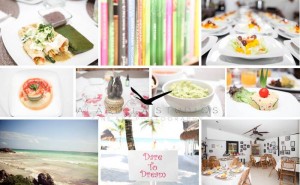 Meals are Vegetarian, Vegan, or Pescatarian. Please let us know your option for the week on the registration form.
Schedule:
Friday, April 25th, 2015
Arrival
6:30pm Supper
Daily Schedule
Morning Meditation
8:30am Breakfast
10:30-11:45p Yoga
1:00pm Lunch
4:30-6:00pm Yoga
6:30pm Supper
There will be a few evening meditations including ayurveda concepts and yoga nidra.
 Things to Bring;
Comfortable walking shoes/flip flops
Yoga clothes and mat
Sunglasses, sunscreen, bathing suit and hat
Water bottle, flashlight, insect repellent, and medications
Warm clothes or shawl for evenings and mediations
A journal/laptop with chargers (there is wireless internet)
This is a beautiful eco friendly resort so do not bring a hairdryer as it will blow the generators.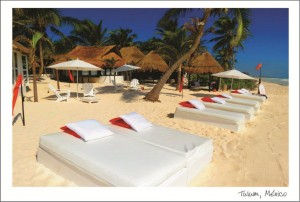 Your lounger awaits…to join us on retreat you can register by emailing yogahaven@accesscomm.ca or karla@innerflowyoga.com with questions and an e transfer or at 306-757-6765 by Visa or Mastercard or at Yoga Haven in Regina.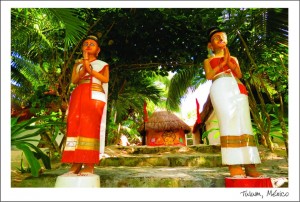 "The breath is the intelligence of the body" – T.K.V. Desikachar
Check out Lori Lee and Karla Blocka below.
I am the founder and owner of Yoga Haven.  My classes are designed to inspire and challenge you to find your edge in all aspects of yoga.  We focus on pranayama, intentions, strength, and flexibility.  My intention is to evolve our yoga on all levels and explore postures in creative yet authentic ways. I love teaching Sivananda yoga for it's philosophy and roots, vinyasa flow for its intuitive nature, hot yoga for the way it makes my muscles sing, and yin yoga for its yummy contemplative release. My goal is to take the practice of yoga off the mat, so we are having a mindful experience of life.
My first business was in aromatherapy and pure essential oils continue to be one of my great loves. This self care quest led me to yoga and belly dance. I started taking yoga classes in 1994 and I knew after taking my first class I was hooked and wanted to teach.I did my first teacher training at the Sivananda yoga ashram in the Bahamas in February of 1999 and I started teaching soon after. Belly Dance teacher training and workshops followed. I was then drawn to study Kundalini yoga at the Yosodohara ashram in British Columbia. This was a week long training of contemplative yoga.  It was here I discovered the moving meditations of Gabrielle Roth. Teaching and practicing trance dance and moving meditation has been transformative, and there is nothing like moving to the sounds of Jai Uttel live with the guidance of Shiva Rea!  Shiva Rea's courses on philosophy, history, ayurveda, and yoga practice for the householder have deeply influence my teaching.
After years of travelling, taking yoga workshops, holding retreats and running the yoga studio, I went back to the Sivananda yoga ashram in the Bahamas in 2008 for the 500 hour advanced yoga teacher training.  It was at the ashram I met Ayurvedic gurus, Dr. David Frawley and Dr. Vasant Lad. I completed yin yoga teacher training with Bernie Clark in Whistler in 2009. In 2011 I was inspired by two retreats in BC with Dharma Mittra in Naramata and a surf and yoga retreat with Eoin Finn in Tofino.  In 2011 I had an incredible life expanding experience with Thich Nhat Hanh at a 6 day mindfulness retreat at the University of Vancouver. In 2012 I trained in New York City in Unnata Aerial Yoga with Michelle Dortignac.  I study Ayurveda with Cate Stillman and Myra Lewin. I have been certified by the California College of Aurveda for Ayurveda Yoga Therapy with Dr. Marc Halpern.  I am influenced by workshops with teachers such as Baron Baptiste, Rodney Yee, Rod Stryker( 2001 and 2010), Bhagavan Das (2000 and 2008), Gurmukh Khar Khalsa, Ana Forrest, Ram Das, Sharon Gannon and David Life.
I am passionate about teaching yoga, ayurveda, health and finding joy and pleasure in every day…yes…every day!
 Karla Blocka
Through her discovery of yoga and meditation seven years ago, Karla experienced an impactful means of cultivating self-awareness, mindfulness, and balance on all levels – physical, psychological, emotional, and energetic. Her self-practice became such an integral part of her health and well-being that she felt drawn to helping others discover the transformative power of yoga. Karla is a certified RYT 200 (Registered Yoga Teacher) with the Yoga Alliance of North Americ, and is presently working towards a 1000 hour Yoga Therapist certification in Integrative Yoga Therapy with Joseph Lepage.  Her training includes Yoga Teacher training certification in Indonesia with Shakti Mhi through Prana Yoga College International, and a course in yoga therapy for chronic health conditions with Neil Pearson, Chair of the Pain Science Division of the Canadian Physiotherapy Association.  Karla also obtained a Bachelor of Arts (Honours) degree in Psychology from the University of Alberta.  Karla views yoga as a journey of healing that brings balance to our bodies and minds through awareness of awakening of "the witness" – that part of us that is always healthy and whole. Healing is seen not only through the removal of symptoms, but instead a return to balance and wholeness on all levels.